HISTORY>>ROSS ISLAND
ROSS ISLAND
Ross Island ( 0.8 sq km) was the Administrative Headquarters for the Andaman and Nicobar Islands, it located just a kilometer away from port blair city. During the British regime Ross island was the capital and higher official used to live in this island. It was bandoned after 1941 when a major earthquake hit island.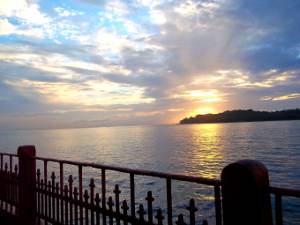 Ths small island is now cache of ruins and is a hot tourists spot, the ruins and location of ross island makes people to ask many questions about the past history of this island.ruins of old buildings like Ballroom,Church, Hospital, Bakery, Press, Chief Commissioner's House, Govt. House ,Swimming Pool and Troop Barracks, all in dilapidated condition, reminiscent of the old British Control.

Since Dr. James Pattison Walker arrived in Port Blair aboard the East India Company's steam frigate 'Senuramis' on 10 March 1858, this island remained under British control till 1942. From 1942 to 1945, the island was under the rule of Japanese. However, the allies reoccupied the island in 1945 and later abandoned it. During British occupation, this island was the Central Operations head.
Ross island is also a home for various other attractions apart from ruins, like deers , and peacocks. The absoute views of the ross island attarcts tourists to this place. Our tour and travel package include a tip to ross island too. Night halt in ross Island is not allowed .
ANDMAN PLEASURE HOLIDAY TOUR & TRAVELS

ADDITIONAL SERVICES PROVIDED BY ANDAMAN PLEASURE TOUR & TRAVELS
WATER SPORTS RESERVATION.
CAR RENTAL
FLIGHT BOOKING
RAILWAY RESERVATION
TOUR PACKAGE
Hotel Reservation as per your request
You can read our entire tour and travel package list to select the package that suit you most, for more assistance you can directly contact us at our main office or you can leave a mail to us on our email address for information and assistance.
ANDAMAN PLEASURE TRAVELS: SERVICES TO EVERY CUSTOMER IS IMPORTANT